Product Spotlight: System X Ceramic Coating
There are countless brands and styles of auto detailing products available on the market. Luckily, System X makes it easy to find the best ones for your exact needs. This brand provides some of the most innovative and well-recognized products in the detailing industry today. That's why we proudly offer the System X ceramic coating line for our customers. Let's evaluate this product and why we recommend it as your go-to ceramic coating solution.
What Is a Ceramic Coating?
Cleanliness is one of a vehicle's most notable features. Any vehicle, be it car, truck, or SUV, is at its maximum value when it looks brand-new. Avoiding chips, scratches, and external signs of wear and tear is essential, especially if you plan to sell the vehicle in the future. Using a ceramic coating might be your best bet if you want to keep your vehicle in pristine condition for years to come. This innovative technology chemically binds to a vehicle's exterior to create a durable layer of protection.
Benefits of a System X Ceramic Coating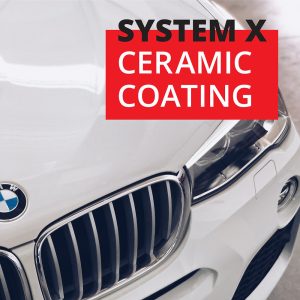 Thanks to breakthroughs in nano-ceramic coating technology, System X has captured lightning in a bottle. This product line delivers lasting performance across various distinct formulas. You have several choices ranging from their Max ceramic coating to the Pro, Crystal SS, and Diamond SS options.
Each of these coatings offers something a little bit different. The System X Diamond SS ceramic coating, arguably one of the most advanced coatings on the market, supplies unmatched durability and water resistance. This product delivers:
Multi-purpose protection from water, scratches, solvents, UV rays, and bird droppings,
Outstanding gloss, shine, and a pencil hardness of 9H,
A lifetime warranty and 0.3mm-thick film for improved protection,
Temperature resistance up to a whopping 1400°F,
Rapid, 20-minute dry times and a full cure within just three days,
An 18-month shelf life, allowing for long-term application, and
Up to 10 years of paint protection when applied professionally.
A System X ceramic coating provides years of exceptional protection for the exterior of any new or used vehicle.
Why We Use System X Ceramic Coatings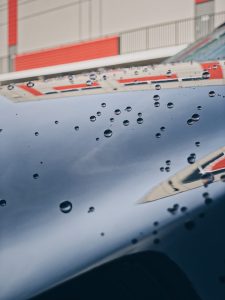 One of the primary reasons we use this brand is its industry-leading durability. Other auto detailing products, such as polymer sealants and carnauba wax, naturally wear off after a few short months. They must be reapplied regularly for the best results, and even then, they have some downsides.
For example, polymer sealants might adequately protect against frost, hot water, UV rays, and acid rain. However, they're especially vulnerable to scratches, impacts, solvents, and bird droppings. The benefits of organic wax are mostly cosmetic, and these products only offer minor protection against solvents, cold water, frost, and acid rain.
By contrast, a System X ceramic coating offers total protection from all the hazards mentioned above. It also shields against bird droppings and nasty hydrocarbon build-up from exhaust fumes. Plus, System X ceramic coating products are super slick, glossy, and hydrophobic. This means they not only look amazing, but they also repel moisture and are resistant to harmful water spotting. In short, we use System X ceramic coating products because they're simply the best, and our customers deserve nothing less.
Our customers find that these ceramic coatings deliver the durability and glossy appearance they expect. They provide a strong, lasting, and consistent finish, which allows vehicle owners to feel confident in their investment and receive the best return down the road.
Ask Us about System X Ceramic Coatings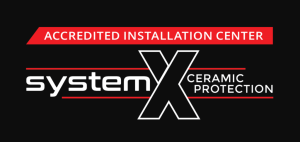 We provide only the best ceramic coatings for our customers. System X products meet our standards, and we know they'll meet yours, too. These products are exclusively available through certified installers and resellers like Nebraska Auto Detail, so if you're interested in a ceramic coating for your new or used vehicle, then we welcome you to contact us for more information.