In-Depth Exterior Detailing
Our exterior auto detailing services include everything you need to keep your car looking better than ever. We've curated the best techniques and cleaning materials to protect your vehicle from the elements and keep it looking great for longer. Here's an in-depth guide to help you understand all the steps that we take to ensure that your car looks and feels better than ever.
Our Exterior Detailing Packages
At Nebraska Auto Detail, we offer an extensive "Exterior Detail" package that covers every inch of your car's body. Additionally, our comprehensive Enhanced package gives you the best of our interior and exterior detailing packages. With our skilled team and top-of-the-line processes, we guarantee that your vehicle will receive meticulous attention and turn heads on the road. Read on to learn about our exterior detailing services and see how we can revitalize your car.
1. Exterior Hand Washing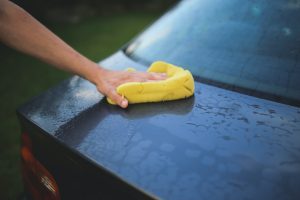 The first step in our detailing package is thoroughly hand washing your car's exterior. Our experts use high-quality soap and soft microfiber towels to ensure that your car is not only clean but also free from any scratches or swirl marks that occur with automatic car washes. Moreover, our emphasis on hand washing ensures the removal of many contaminants, like dirt and grime, from your car's surfaces.
2. Iron Decontamination
Iron decontamination is a crucial step in our process because it helps remove iron and rail dust from your car's surface. These contaminants can penetrate deep into your paint and form tiny rust spots that can cause permanent damage to your car. Therefore, our team uses a dedicated industry-standard iron remover to dislodge and dissolve these iron contaminants. This technique preserves your body's appearance and integrity, ensuring a longer-lasting car.
3. Clay Bar Treatment
Next, we use a clay bar to remove any remaining contamination that can be bonded to your car's paint. Our clay bar treatment removes any other pollutants that the wash and iron decontamination may have missed.
Our team uses only the best quality products that chemically bond to any contaminations and safely remove them, without causing any damage to the bodywork. This process makes your car's paint smoother and shinier, preparing the surface for the next step.
4. Paint and Chrome Polishing
Once your car's exterior is clean and free of any contaminants, we polish the paint with a high-quality polish. Additionally, our techniques treat any minor scratches and swirls that your car may have from normal wear and tear. If your car has any chrome accents, like wheels or grille inserts, we'll polish those too.
5. Glass and Wheel Cleaning
Clean windows are essential for clear visibility and a high-quality look. Our team uses glass cleaning solutions that remove the toughest grime and leave your windows streak-free. We also clean your mirrors to ensure clear visibility on the road.
Lastly, the appearance of your tire and wheels contributes significantly to how your car looks. That's why we use specially formulated cleaners that remove brake dust, dirt build-up, and other foreign materials from your wheels. Our tire cleaning procedure is equally comprehensive, ensuring that your tire sidewalls shine while restoring the black wall to its original condition.
6. Long Lasting Paint Sealant
Finally, we apply a long-lasting paint sealant that provides excellent protection against debris, ultraviolet rays, and other environmental factors. It helps to prevent damage from fading, oxidization, and further exposure to the elements. This adds a brilliant shine to your paint while protecting so you can enjoy a clean-looking car for longer.
Book a Detailing Appointment Today
At Nebraska Auto Detail, we take auto detailing seriously. Our exterior detailing package is designed to provide your car with the best protection and the most thorough cleaning possible. This is because each step of our process is carefully designed to ensure each car looks great and stays that way for as long as possible.
We hope this guide has helped you understand the different steps in our detailing package and how they come together to provide thorough and comprehensive results. Call us today to schedule an appointment and experience the difference that Nebraska Auto Detail can make.