The Significance of Mobile Detailing for Your Vehicle in Lincoln, Nebraska
In the heart of Lincoln, Nebraska, at 3925 S. 8th, you'll find Nebraska Auto Detail, your trusted partner in vehicle care. In today's fast-paced world, where time is a precious commodity, mobile detailing has emerged as a game-changer for car owners. In this blog, we'll dive into why mobile detailing is beneficial, especially in a bustling city like Lincoln.
1. Convenience at Your Doorstep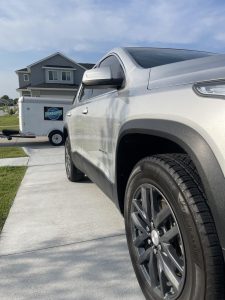 The most apparent advantage of mobile detailing is the convenience it offers. Instead of driving to our detailing shop, and dropping off for the day, mobile detailing professionals like Nebraska Auto Detail come to your preferred location. Whether you're at home, work, or anywhere in Lincoln, you can schedule a service that suits your busy lifestyle. All we need is a safe and approved area of property to be able to work on your car and be able to park our truck and trailer close to the vehicle. We provide our own water and electricity.
2. Protecting Your Investment
Your vehicle is not just a mode of transportation; it's an investment. Some consider it the third highest investment behind home and college. Mobile detailing plays a crucial role in safeguarding this investment. The experts at Nebraska Auto Detail understand that proper maintenance not only enhances your car's appearance but also extends its lifespan. We use top-quality products and elite techniques to protect your vehicle's paint, interior, and overall maintain the condition from the harsh Nebraska climate.
3. Time-Efficient
Time is money, and mobile detailing helps you save both. In a city like Lincoln, where traffic can be unpredictable, having a professional come to your location is a time-saver. We have a small mobile detailing fee of one dollar per mile from our location, 3925 S. 8th Lincoln, Nebraska 68502, to your location. We only charge that fee for the trip out, not the trip back. You won't need to set aside a large chunk of your day to get your vehicle detailed. Instead, you can continue with your daily activities while the professionals at Nebraska Auto Detail come to you and work their magic. Most of the time it takes us to do a mobile detail is up to 3 hours depending on the condition of the vehicle.
4. Tailored Services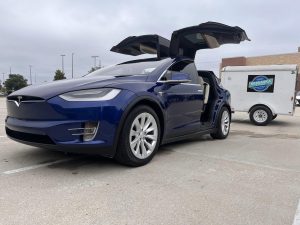 Nebraska Auto Detail offers their "Standard Detailing" package when mobile. That includes: a full interior detail, steam cleaning the floors, mats, seats (if the seats are leather, the team will hand clean and condition), clean the center console, cup holders, dash, glove box, doors, door jambs, windows, hatch. Finally, it includes an exterior hand wash, iron decontamination, clay bar treatment, and we will apply a paint sealant to bring out the shine and help protect the paint.
5. Eco-Friendly Practices
Concerns about the environment are more prevalent than ever. Mobile detailing is eco-friendly. It reduces the carbon footprint associated with driving to a detailing shop. Nebraska Auto Detail employs environmentally responsible practices which include water-efficient washing techniques and eco-friendly cleaning products such as the 3D Detailing Supply Brand to minimize their impact on Lincoln's surroundings.
6. Professional Expertise
Nebraska Auto Detail prides itself on its team of skilled professionals who are passionate about cars. They have the knowledge and experience to handle a wide range of vehicles, from everyday commuters to luxury cars. With their expertise, you can trust that your vehicle is in capable hands.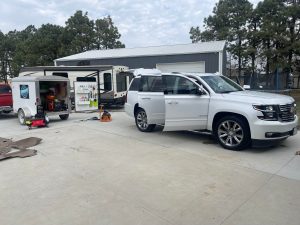 Mobile detailing is not just a convenience but a necessity for vehicle owners in Lincoln, Nebraska. Nebraska Auto Detail brings top-notch detailing services right to your doorstep. With their commitment to quality, professionalism, and eco-friendliness, you can keep your vehicle in tip-top shape while saving time and effort. If you want to protect your investment and ensure your car looks its best, schedule a mobile detailing service with Nebraska Auto Detail today. Your vehicle will thank you for it.
Due to weather, Mobile Detailing is not available Dec through March.