Now Offering Mobile Auto Detailing
Due to weather, Mobile Detailing is not available Dec through March.
What could be more convenient than mobile auto detailing? Now you can get the same amazing service at the same price without leaving home! This has been a long-term goal of ours, and we're now proud to offer this option for our loyal customers. Here's an overview of what you can expect from our new mobile auto detailing service.
Mobile Auto Detailing
Did you know that the average American drives for at least an hour every single day? All that time quickly adds up to over two weeks in the car per year. You take your life into your hands whenever you get into a vehicle, so it's important to do everything you can to stay safe, healthy, and alert.
We know your time is valuable. Life doesn't stop just because your vehicle needs attention, and scheduling a full detail can sometimes be tough to manage. That's why we decided to offer mobile auto detailing services to accommodate your unique needs.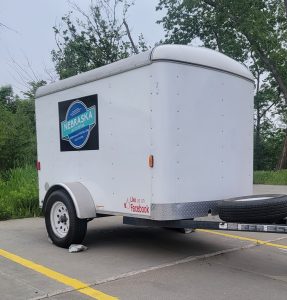 Our mobile detailing truck and trailer are now serving customers within the Lincoln city limits. We currently offer our Standard detailing package starting at just $199. This service includes both interior and exterior detailing to restore your vehicle to near-mint condition. Our car care experts will gladly vacuum and steam clean your floor mats, seats, and carpets. They'll also dust your console, dashboard, and door interior, as well as clean door jams and remove light stains from the upholstery. Your vehicle's interior will look and feel amazing again without you even having to step outside.
Our standard mobile auto detailing also includes essential exterior services. These include thorough handwashing of all panels, wheels, and tires, as well as clay bar treatment and iron decontamination. It also features polishing of chrome, mirrors, and windows, plus a 3-month paint sealant. We take pride in our exterior detailing process, and we understand you have high expectations for your vehicle. You can rest assured that we'll treat your car or truck like our very own, no matter what.
When to Get a Vehicle Detailed
Every driver and every vehicle is different. Regardless, we recommend a professional auto detail at least twice a year. Regular detailing will protect your investment, improve indoor air quality, and significantly extend the life of any vehicle.
A dirty car is distracting, let alone unhealthy. Odor, pet hair, water bottles, and fast food remains will build up and get in the way when you're on the road. Over time, dirt and debris can contribute to harmful contaminants like mold and toxins. These don't belong anywhere near you, your vehicle, and its occupants.
That's why steam cleaning comes standard with our mobile auto detailing packages. In our experience, it's the most efficient way of delivering the deepest clean possible. Not only does steam remove residue, it can kill germs and bacteria that contribute to illness. Steam is also amazing at removing tough odors and stains caused by years of use. It does this by lifting embedded soils to the surface and eliminating them on the spot.
Consider how long it's been since you last washed, waxed, and vacuumed your car or truck. It's a great idea to completely clean any vehicle during the summer and fall months. If it's been too long to remember or you plan to sell your vehicle this year, then feel free to give us a call. We'd be happy to stop by your home or office whenever is most appropriate. If you'd rather drop off your vehicle at our shop, then that's always a choice, too. We aim to supply excellent, convenient detailing services for all our community members, no matter where or when. Our professional detailers are eager to restore the condition of your favorite vehicle today.