Winter Special: Interior Only Packages
It's that time of year again. Before we know it, snow will be falling, winds will be frigid, and rock salt will be piling up everywhere. Winter is a rough season, especially for our vehicles, and we depend on them despite maintenance being more difficult. It's easy for anyone to neglect caring for their daily driver during these cold months. Schedules are often hectic through the holidays, and many would rather not spend time outside cleaning car cabins. That's why we're offering a special on car interior cleaning until the end of February.
Should I Clean My Car?
It's an honest question which we hear often. We usually recommend an interior detail at least once per season to keep it fresh year-round. However, this depends on how often you use it and why. On one hand, if you're tidy and rarely drive throughout the week, this may be excessive. On the other hand, if you spend your days ferrying kids, pets, or clients, every other month is better. Those looking to sell their vehicle are encouraged to detail it prior to listing. It all comes down to your individual needs and personal preferences. Regardless, regular detailing will help to maintain your car's long-term value.
Interior Detailing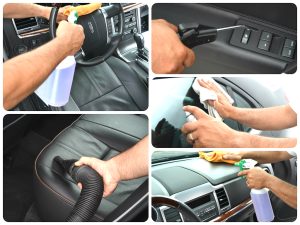 Most people are somewhat familiar with interior detailing. This process is critical for all cars and trucks, regardless of their age or condition. It generally includes thorough vacuuming and stain removal. Detailing also involves the cleaning of seats, carpets, floor mats, doors, and jams. This is especially important during busy winter months as passengers tend to track in mud, snow, and salt. We then clean and wash the vehicle's dashboard, headliner, and trunk, as long as it's empty. Many detailers use old-school shampooing techniques to wash interior fabric, but we prefer to use steam. This innovative approach is neater, more efficient, and provides a deeper clean free from fragrances.
Why Steam Cleaning?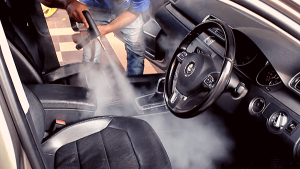 We use steam in our interior detail packages for many reasons. For one, it's quicker and tidier than other methods, as it reduces the amount of water needed. This makes cleanup a breeze and allows vehicle interiors to dry rapidly, even when cold. Steam also produces much better outcomes than traditional shampooing. It delivers a more thorough cleaning of seats, carpets, and headliners. As a result, our clients save money by retaining their investment for many months to come.
Since the average American spends about an hour in their car daily, grime, food, and odors build up quickly. They sink into the fabric over time, penetrating far beyond its surface. This is troubling, as contaminants can negatively affect the air quality within the cabin. Shampoo simply isn't enough to remove all of these pollutants effectively. Seats and carpets may appear and even smell clean after a traditional washing, but don't be fooled. Strong scents often mask underlying smells which are likely to return in a few short weeks. Instead, our process uses heated water vapor to lift embedded odors and residue to the fabric's surface. Steam also eliminates fungi and bacteria, reducing toxins and protecting the health of your vehicle's passengers.
We rely heavily on our vehicles in the winter, maybe more than during any other season. While our standard packages may not be ideal during this time, we gladly offer winter interior detailing. Depending on your needs, it's always a good idea to schedule a detail at least every few months. This is the best strategy to keep your vehicle in the best condition over its lifetime. If you're looking for interior car cleaning near you in Lincoln, Nebraska, give us a call. We look forward to helping you maintain your car or truck this winter.