Our Interior Detailing Process
Nobody likes a dirty vehicle. Your vehicle's interior is especially important to maintain since it's what you and your passengers will see, smell, and touch on a regular basis. The good news is that keeping your interior clean doesn't have to be a hassle. We offer thorough, professional interior detailing services that will leave your car looking and smelling like new. Here's a quick breakdown of our interior detailing process and why it matters.
Interior Detailing Matters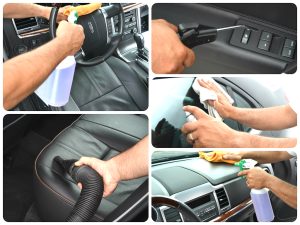 The average American spends about an hour in their car each day. Over time, dirt, food, and odors build up and can affect the cabin's air quality, not to mention overall appearance. Add in any number of children or the occasional pet, and it's no wonder why some daily drivers look so rough.
Regular interior detailing is one of the best ways to maintain the appearance of any vehicle. When performed by a professional, it can even help to protect your passengers' health. That's why we recommend scheduling a professional detail at least twice per year to keep your vehicle in mint condition.
Step 1: Remove Trash and Vacuum Thoroughly
The first step in our interior detailing process is to remove any rubbish from your vehicle's cabin. This includes everything from old water bottles and fast-food wrappers to used tissues and loose change. We'll make sure your vehicle's floors, cup holders, ashtrays, and door pockets are completely clear before moving forward.
Once all the trash has been removed from your car, then we'll start vacuuming its every nook and cranny. First, we start with the floors, seats, and floor mats. We vacuum them to remove any dirt, dust, and crumbs that may have accumulated since the last time they were cleaned. Next, we'll make sure to clear any remaining dust and debris from your interior switches, panels, and door pockets. By the time we finished, your car's interior will be ready for steam cleaning and conditioning.
Step 2: Steam Clean All Carpets and Upholstery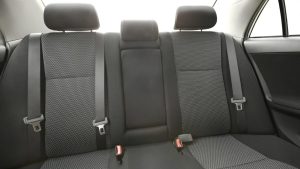 After vacuuming, we'll move on to steam cleaning all fabric seats, carpets, headliners, and upholstery. This step will remove any lingering or embedded dirt, grime, and stains. That's because steam uses heated water vapor to penetrate into crevices and lift hidden filth to the fabric's surface before disposing of it.
We prefer to use steam to deliver the best possible results for our customers. Not only is it more efficient than shampooing, but it also provides a deeper clean and better sanitation. Since it involves little to no liquid water, your vehicle's fabric will dry quickly, reducing the risk of toxic mold and mildew. Plus, steam cleaning actually eliminates harsh odors instead of simply covering them up with strong artificial fragrances.
Step 3: Clean All Glass and Wipe Down Surfaces
Next, we'll clean all your vehicle's glass both inside and out. This includes wiping down its windshield, windows, sun visors mirrors, rear-view mirror, and side mirrors. We'll also clean the exterior of all your windows to ensure optimal visibility while driving. By the time we're finished with this step, your vehicle's glass will be sparkling and crystal clear!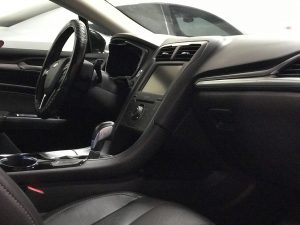 Finally, we'll wipe down all hard surfaces in your car's interior using a gentle conditioner. This includes areas like your center console and door panels. Next, we move on to the dashboard, wiping off the area to remove any smudges, stickiness, and fingerprints. Our overall process is almost identical for leather surfaces, except we use a dedicated conditioner specially formulated for this material.
Once the dash and console are clean, then we'll dust off any of dirt and debris within and around your vehicle's air vents. Lastly, we inspect and detail the steering wheel, gear shift knob, and cup holders. We'll apply a conditioner to these areas and wipe them down with a microfiber cloth until they're shining like new.
Ask Us about Interior Detailing
We take pride in providing affordable detailing services, and our customers love their results. Our thorough, 3-step process will leave any vehicle's interior safe, clean, and smelling like new again. If you don't have time to detail your car yourself, or if you need help with any tough stains, then please feel free to give us a call, reach out online, or send us an email at nebraskaautodetail@gmail.com. Don't forget to ask about our winter special!